Both staff and patrons re-engaged with the library and its services throughout 2021.
A patron came into the Technology Center in April, days after his release from 15 years of incarceration. He had no identification cards and no idea where to begin to get one. Staff helped him get familiar with computers and got him started toward getting replacement ID cards. He came back day after day, determined to rebuild his skillsets. They helped set up his cell phone, write his resume, get a learner's permit, and search for jobs. Later, he came to the Tech Center to photocopy his first paycheck, because he planned to frame it.
A new family from Afghanistan was placed near the Maplewood Branch by the group Keeping Our Promise. A volunteer brought the father of the new family to the library; he wasn't that interested until he saw what the library offered. The next day his wife and children came to the library so the younger ones could work on their English with the library staff.
Douglass Branch offered a twist on curbside service called Lit Loot where patrons could request books and media curated by staff. For instance, staff chose books for teens who wanted manga but weren't sure what series to read next, for parents who were looking to support curriculum and for adults who wanted to try new genres but didn't know where to start. It was a very popular service!
COVID could not stop the library from celebrating important milestones: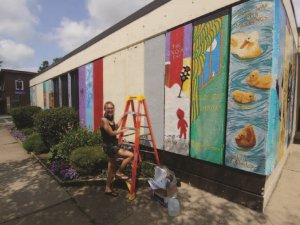 Arnett Branch hosted a wonderful night celebrating the completion of its Book Spines mural. The three talented muralists, Richmond Futch Jr., Chloe Smith, and Ebony Singleton, and two popular authors whose works are featured in the mural, Kathleen Blasi and Leslie C. Youngblood, spoke of their love of art, literature, and libraries. Everyone enjoyed music by guitarist Ken Luk, socializing, light refreshments and viewing the murals.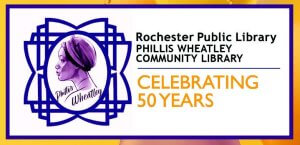 Phillis Wheatley Community Library celebrated its 50th anniversary, having opened in July of 1971. A community appreciation party was held with LuGia's Ice Cream Truck giving away free ice cream to everyone. Womba African Drumming and Dancing played in the meeting room and people were dancing and clapping along to the African beats. T-shirts and water bottles were given away to commemorate this special event.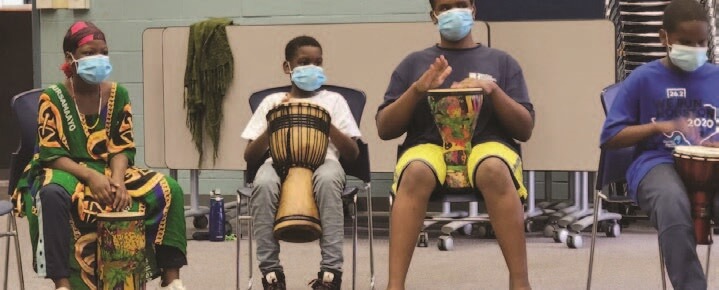 In early 2021, RPL partnered with Common Ground Health on a grant for teen mental health in the time of COVID. A group of 15 teens was recruited to work on mental health resources for teens—300 applications were received for the 15 spots! The resources the teens developed included a zine and a variety of bookmarks, flyers and buttons, all of which were distributed to Monroe County libraries. In addition, area librarians received training from health professionals on teen mental health.
---