The library still performed normal activities such as research and collecting during 2021.
The Local History Division's Emily Morry's November blog post on Cab Calloway uncovered the fact that the Rochester house in which the jazz legend was born (until now thought to have been torn down) is still standing. The post garnered several positive comments commending her research:
"Ms. Morry, what a great detective story! It was like reading an episode of "finding your roots" with Dr. Gates on PBS. I am glad you are keeping Rochester's history alive and accurate for the future of Rochester. Great work. Thank you." -Paul Deeth
Cab Calloway's grandson, Joshua Langsam, also lauded Morry's research and indicated he and the Cab Calloway Foundation would like to work with the library to obtain a historical marker for the former Calloway house.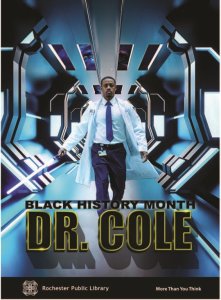 The Local History Division also began work on an archive of Black history and culture. They received a grant to help efforts to collect oral history interviews with Black elders and activists and to provide staff training on archiving and preserving Black local history.
Services that were begun in 2020 in response to COVID continued in 2021.
The library added more Mi-Fi units (internet hotspots) for a total of 300 and they were allowed to circulate freely throughout Monroe County.
With the state of the job market in 2021, the library created an online job search toolkit, pulling all of its various job search resources into one convenient location for patrons: roccitylibrary.org/services/job-seekers-toolkit/
In response to both the pandemic and Black Lives Matter, the library held a Black Men in White Coats panel discussion program during Black History Month. The discussion occurred in conjunction with a viewing of the documentary film of the same name. The panelists included local African American medical doctors, a nursing professor, a mental health counselor, and a current medical student. Superhero posters of the various panel members were created by library staff and are now in the Teen Center.
The Literature Division's Rochester Writes programs continued to attract a diverse group of people and to create positive connections between students that contribute to a strong and supportive writing community. One student evaluation commenter wrote: "We are living in a prolonged time nationally and globally of heavy hearts from the corona virus pandemic, political division, racial injustice, etc. However, a couple of hours writing, sharing and hearing others' stories that revealed their humanity was an experience of hope and a lighter heart. Thank you."
---