Rochester History is a scholarly journal that provides informative and entertaining articles about the history and culture of Rochester, Monroe County, and the Genesee Valley. Former City Historian Blake McKelvey published the first quarterly issue in January 1939 with the goal of expanding the knowledge of local history. Today Rochester History is published biannually (spring and fall) by the Central Library of Rochester and Monroe County. It is funded in part by the Frances Kenyon Publication Fund, established in memory of Ms. Kenyon's sister, Florence Taber Kenyon, and her friend Thelma Jeffries.
Back issues available online!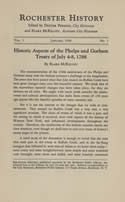 On the 50th anniversary of the publication, a decade-long project to index Rochester History was launched through the Office of the City Historian and the Rochester Regional Library Council. With funding from the Frances Kenyon Publication Fund, the entire run of Rochester History was indexed. The index is continually updated with each new issue. A Library Services and Technology Act federal grant made it possible to digitize the journal and make back issues available online. The goal of this grant was to share unique local resources electronically, thereby increasing awareness and access to local history for educational and research purposes. New issues of Rochester History are available approximately two months after they are published.
Index
The Rochester History Index is arranged by subject and includes all issues up to 2009. It is arranged in an easy-to-read format that includes hyperlinked cross references. Use the ABC navigation links at the top to browse the index. Click on the volume/issue link to view the full text of issues of interest. If you are looking for a keyword in the index you can also use the 'Find in Page' feature in your browser (Edit -> Find or F).
Continue to the Rochester History Index
Table of Contents
The Table of Contents is organized by date, volume, and issue beginning with the most recent issue.
Continue to the Rochester History Table of Contents
Subscriptions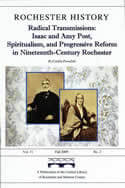 Subscriptions to Rochester History may be purchased from RIT Press:
https://checkout.square.site/merchant/VEA68MW6XR2AF/checkout/UGNJGEFL2VMYJJZ7EESAU5EX
For questions about subscriptions, please contact:ritpress@rit.edu
Submission Guidelines
The journal invites submissions of manuscripts that further its mission of increasing knowledge of and interest in local history and culture and of placing local issues into a national or global context. Articles should be submitted via email to historyjournal@libraryweb.org. Please carefully review our submission guidelines and prepare your manuscript accordingly. If you have questions or would like more information, please send an email to the above address or call the journal editor, Christine L. Ridarsky, at (585) 428-8095.
Copyright Information
Rochester History is copyrighted by the Rochester Public Library under the Office of the City Historian. Questions on copyright should be directed to:
Office of the City Historian
Rochester Public Library
115 South Avenue
Rochester, New York 14604
(585) 428-8095
historyjournal@libraryweb.org
Additional copyright clearance may be necessary from institutions and authors whose property appears in Rochester History.