In 2011, we held the first Art of the Book exhibit in honor of the 100th anniversary of the Rochester Public Library. At the time, we wanted to celebrate what has been at the core of libraries for centuries–the book. We marveled over the intricate interpretations of this humble format, and we were thrilled with the response to the exhibit from the community.
In subsequent years, the exhibit has grown to include entries from all over the world, featuring well-known artists for their exquisite work. We have built a reputation worldwide among book artists, and we are so pleased to see that reputation upheld.
Books continue to ensnare the imagination, both for their form and content. Artists manipulate those two components to create breathtaking, mind-bending works of art that tease and cajole people to consider the intricacies of paper, ink, words, and meaning.
---
Artist Books are…
works of art realized in the form of a book. They are often published in small editions, though sometimes they are produced as one-of-a-kind objects referred to as 'unique.' Artist Books have employed a wide range of forms including scrolls, fold-outs, concertinas, or loose items contained in a box, as well as bound printed sheets. Artists have been active in printing and book production for centuries, but the artist book is primarily a late 20th century art form.
Altered Books are…
any book, old or new, that has been recycled by creative means into a work of art. They can be rebound, painted, cut, burned, folded, added to, collaged in, gold-leafed, rubber stamped, drilled or otherwise adorned…and yes, it is legal. They can also be composed entirely of unique materials.
Paper Sculptures are…
artworks created as sculptures using paper in some form as the predominant medium. These sculptures are three-dimensional and can be either free-standing or bas relief and would be considered art forms in themselves.  Paper sculpture can be functional or non-functional with attention to pushing the limits of how paper can be used and explores paper in inventive and unique ways.
2022 Winners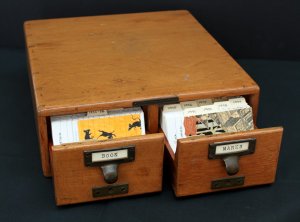 Best of Show– Book Marks: An Artist's Card Catalog, by Barbara Page, Trumansburg, NY
Artist's Books
First Place– Based on Your Current Trajectory                                                                   Second Place– I Look at the World
by Rachel Simmons, Orlando, FL                                                                                           by Tennille Shuster, Macon, GA
Honorable Mentions:
Two to Tango, by Charlene Asato, Mountain View, HI
Graphite Hands, by Deborah Phillips Chodoff, Katonah, NY
Bird Totem, by Marcia Vogler, Charlotte, VT
Magic, the admirable book of insects, by Ermina Marasca Soccol, Porto Alegre, Brazil
Caldo De Pollo, Gud Soya, & Spiced Buttermilk, by Ben Rubin, Rochester, NY
Meringue, by Macey Ley, Jamaica Plain, MA
Ecorce Interne, by Maja Dokudowicz, Warsaw, Poland
Altered Books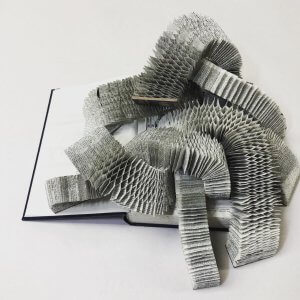 First Place– Words Are Unruly                                                    Second Place– Houdini's Dilemma
by Dorsey Hogg, Burlington, VT                                              by Tony Dagradi, New Orleans, LA
Honorable Mentions:
Roundup: The Class of 1929, by Lynn Skordal, La Conner, WA
Methodist Hymnal: Special COVID Edition, by Genevieve Lapp, Sait Louis Park, MN
Paper Sculpture
First Place– Great Expectations: Loosely Knit            Second Place– Canopy, No 3
by Gregg Silvis, Newark DE                                              by Bret Garwood, Rochester, NY
Honorable Mentions:
Quilters, by Carolyn Shattuck, Rutland, VT
Valle de la Meuse, by Carole Kunstadt, West Hurley, NY
Read the article on Central Library's Art of the Book exhibit in Fiber Art Now (spring/summer issue, Vol 10, issue 2, 2021).