Call for Entries 2022
The deadline for entry to the 2022 Art of the Book Juried International Exhibit is February 28, 2022. 
---
In 2011, we held the first Art of the Book exhibit in honor of the 100th anniversary of the Rochester Public Library. At the time, we wanted to celebrate what has been at the core of libraries for centuries–the book. We marveled over the intricate interpretations of this humble format, and we were thrilled with the response to the exhibit from the community.
In subsequent years, the exhibit has grown to include entries from all over the world, featuring well-known artists for their exquisite work. We have built a reputation worldwide among book artists, and we are so pleased to see that reputation upheld.
Books continue to ensnare the imagination, both for their form and content. Artists manipulate those two components to create breathtaking, mind-bending works of art that tease and cajole people to consider the intricacies of paper, ink, words, and meaning.
---
Artist Books are…
works of art realized in the form of a book. They are often published in small editions, though sometimes they are produced as one-of-a-kind objects referred to as 'unique.' Artist Books have employed a wide range of forms including scrolls, fold-outs, concertinas, or loose items contained in a box, as well as bound printed sheets. Artists have been active in printing and book production for centuries, but the artist book is primarily a late 20th century art form.
Altered Books are…
any book, old or new, that has been recycled by creative means into a work of art. They can be rebound, painted, cut, burned, folded, added to, collaged in, gold-leafed, rubber stamped, drilled or otherwise adorned…and yes, it is legal. They can also be composed entirely of unique materials.
Paper Sculptures are…
artworks created as sculptures using paper in some form as the predominant medium. These sculptures are three-dimensional and can be either free-standing or bas relief and would be considered art forms in themselves.  Paper sculpture can be functional or non-functional with attention to pushing the limits of how paper can be used and explores paper in inventive and unique ways.
2021 Winners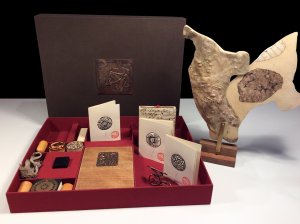 Best of Show– Memory, by Bernard Legendre, Montcontour, France
Artist's Books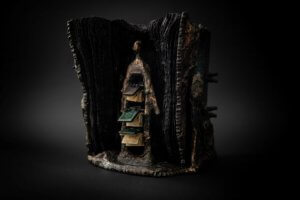 First Place– Great People are the Main Chapter of the Book of Humanity                   Second Place– Memento Mori,
by Leonora Kuisiene, Kaunas, Lithuania                                                                                  by Magdalena Cordero, Santiago, RM Chile
Honorable Mentions:
Behind Closed Doors, by Tennille Shuster, Macon, GA
Press/Crush, by Deborah Phillips Chodoff, Katonah, NY
How Lucky Am I: White Privilege, by Susan Lenz, Columbia, SC
Twisted: How to Heal Complicated Relationships, by Melanie Mowinski, Williamstown, MA
Southland Odyssey, by Charlotte Bird, San Diego, CA
Altered Books
First Place– One Thousand Origami Cranes                        Second Place– Bound to History
by Beverly Hettig, Penfield, NY                                              by Dorsey Hogg, Burlington, VT
Honorable Mentions:
Kinotaphio, by Ioannis Anastasiou, Athens, Greece
Conversation Tropicale, by Pamela Spiteri, Penfield, NY
Delicious, by Dorsey Hogg, Burlington, VT
Paper Sculpture
First Place– Proof of Absence                                                   Second Place– Secrettes
by Maja Dokudowicz, Warszawa, Poland                        by Jacob Wan, Orlando, FL
Honorable Mentions:
Sacred Poem LXXXIX, by Carole Kunstadt, West Hurley, NY
The Parallel of You, by Gina Pisello, Carlsbad, CA
Shelter, by Sarah Grace Dye, Sheffield, South Yorkshire, Great Britain
Read the article on Central Library's Art of the Book exhibit in Fiber Art Now (spring/summer issue, Vol 10, issue 2, 2021).