Researching Local Business
Has something sparked your interest in a local business that no longer operates? It might be a treasure found in your grandparents' attic or at a garage sale, or the mention of a company name, or an old building that stirs your curiosity. The resources of the Central Library's Local History and Genealogy Division can help you learn more about most anything that's been manufactured in Rochester, New York.
Let the brass tag on an old trunk be your guide to finding out more about trunks and leather goods manufactured in Rochester.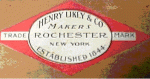 You might start with an Internet Search Engine such as Google or Yahoo. In this case, hits are listings of trunks that are being sold, and include a brief description along with a photo of the trunk and the brass tag.
Don't be discouraged. A better course of action is to visit the Local History Division of the Central Library of Rochester and Monroe County and begin your search there.
This search will start at the Ready Reference Card File. Begin with a broad term such as TRUNKS and you will find two cards:
Trunk and Leather Goods, A.R. Pritchard, S.B. T-6 p. 527
Trunk Manufacturers, see Industries, Henry Likly & Co.
The last card points you to INDUSTRIES, Likly, Henry & Co., which directs you to:
Industries of the City of  Rochester, 1888, p. 102 (Rr974.789, I42)
Scrantom SB Vol.III (Trunks) Picture of building, 1888, p. 65
Additional card notes:
see RVF (aka clipping files) – Stores – Misc. – Likly's (approx. 12 articles)
Founded 1844 by Alfred R. Pritchard; Midtown store closed 1991
BINGO! Not only did you find references to your Likly's trunk, you've learned that there is a connection to a man named Alfred R. Pritchard.
Since this example gives family names, you might look in the BIOGRAPHY card files. Henry Likly's card mentions a biography along with other references. As long as you're standing there, look for Pritchard. The card for Alfred R. lists only his obituary date and the newspaper, but this seemingly small reference will prove to be much more useful than it first appears.
Henry Likly's biography, found in History of Rochester and Monroe County, New York, Vol. II, pp 1306-1307 (William F. Peck 1908, Rfr974.789, P367h v2) includes the history of the company that bore his name. Ask the librarian for the clippings file mentioned above and read newspaper articles dating from 1930 to 1991.
To learn more about Alfred R. Pritchard's obituary, look in the Local Rochester Newspaper Index. Under "Pritchard," you will find a number of newspaper references for Alfred R. and his trunk manufacturing company. Go ahead and look for Likly here, too, even though there wasn't a matching reference on his card. What a surprise – more newspaper references are listed!
At this point, you've found call numbers for several reference books. You could also look in the Rochester City Directories to trace movement of the Pritchard and Likly names and of the company from its start on State Street in 1844. Once you find addresses in the directories, take a look at the collection of Plat Books which contain detailed maps of the city and county. These maps can sometimes provide useful information for your search, such as names of neighboring businesses and names of land owners.
By now you've probably learned that the company name "Henry Likly & Co." was used from the late 1870's (when A. R. Pritchard retired) until 1925 when it became simply "Likly's." You've also learned quite a bit about the history of this company and its founders from 1844 to 1991.
This same method and similar sources will help you locate information about many of the companies from Rochester's early days. A description of resources in the Local History Division appears below.
Card Catalog – listings by subject
Biography Card Catalog – listings by last name
Rochester City Directories – from 1827 to the present; all have listings by last name. The years 1892 – 1920 have a separate book with listings by street. Since 1922, directories combine both name and street listings. The books also provide a wide variety of other information such as advertisements, listings of societies, post offices, census data, and city and county officers. A business directory with business type headings (similar to our present-day yellow pages) appears from 1864 on.
Rochester Suburban Directories – 1930-present. Similar to City Directory listed above.
Tengwall Scrapbooks – 1890-1935. Scrapbooks with clippings of Rochester history including the 1934 centennial, also many clippings of obituaries, and prominent homes and buildings. The scrapbooks cannot be copied.
Rochester History   – 1939 – present. History of Rochester and Western New York, both print and on-line.
Rochester Images   – Photographs and postcards – historical and contemporary images from Rochester and Monroe County. Available in the library (images owned by RPL) and on-line. Copies of images may be purchased through the Rochester History website.
Plat Books – contain maps showing town and street names, land ownership, and often business names. Plat books cannot be copied, but images of the maps are available through Rochester Images.
Sanborn Maps – Fire District maps showing location of water sources. These maps cannot be photocopied, but are available in PDF form via CD.
Local Rochester Newspaper Index – These books are an index for newspapers published in Rochester from 1818 to 1897. Look in the front of each book for the full name of abbreviated publications (ex. U&A = Union and Advertiser). Each listing gives the name, publication date, and page reference (2 – 2 means page 2, column 2). Microfilms are located in the Retrieval Department, 1st floor of the Bausch and Lomb Building.
Something New
The Local History Division has a number of resources available for those searching for information about newer local businesses. In addition to the materials available in Local History, the Business Insight Center also maintains extensive resources on local businesses.
When beginning your search, try:
Library Catalog; search by company name, person, or keyword
Biography and Ready Reference Card Files (cannot be photocopied)
Newspaper Clippings Files (can be copied, but not separated if taped together)
Rochester Business Journal (Periodical)
Rochester Review (Periodical)
Once you have exhausted these resources, try the books listed below.
City Directories,  1827 – present. Polk. Rr 917.4789 R676 (cannot be photocopied)
Rochester Suburban Directories, 1930 – present. Polk. Rrq 917.4788 R676rs (cannot be photocopied)
African American Who's Who, Past and Present, Greater by Mike F Molaire. Rrq 974.789  M717a, Rochester Area, 2nd ed. 1998. 239 p.
Good Business is Thinking People by Greater Rochester Metro Chamber of Congress. Rrq 330.9747 G646g 1990, 94p.
The Image is Rochester by Gabe Dalmath. Rrq 974.789 D148i 1997. 239 p.
Industrial Directory of Rochester, New York and Monroe County. 1957 – 1970? Rrq 670 R676c
Membership Directory and Buyer's Guide by Greater Rochester Metro Chamber of Congress. 1978 – 1989 Rrq 381.1 R676cm
Minority Business Enterprise Annual Report Rochester, NY  by the Office of the Mayor. Rrq 352.5309 R676a 1990/91 – 1990/91.
Minority and Women Business Enterprise Program in the City of Rochester by the Rochester, NY Center for Governmental Research Qr 338.6422 S467m
Rochester Area Chamber of Commerce, a Century of Progress. Rfr 380.106 R676r 1987. 68 p.
The Rochester Area Women's Business and Service Directory by the Greater Rochester NOW. Rr 331.4025  R767 1992  1989
Rochester New York, the Success Address by the Rochester, NY Department of Economic Development. Rqr 354.2799 R676r 1993. 51 leaves.
Online Resources
FirstGov Official United States gateway to all government information.
Local History Division staff are always available to assist you with your search. Contact the Local History Division (lochist@libraryweb.org) for further information.
---
Information provided by Margaret Aderman for the Local History Division of the Central Library.