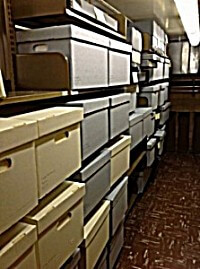 The Special Collections of the Local History & Genealogy Division hold over 500 cubic feet of personal papers, records, and manuscripts related to the Genesee Valley region. These important primary sources are invaluable to the preservation of our collective memory and provide first-hand glimpses into the lives of local luminaries and average citizens alike. Collection areas include the beginning and growth of public-supported educational media in Rochester; social reform in Rochester and Monroe County; and Rochester businesses, clubs, and organizations. Comprised of paper-based documents, glass plate negatives, lantern slides, and original artwork, highlights of these collections include a 1792 deed signed by Ebenezer "Indian" Allen; unpublished histories and biographies; and personal papers of Susan B. Anthony, former Rochester mayor Hiram Edgerton, and Nathaniel Rochester and the Rochester family, among many others.
Procedures for Access and Use of Special Collection Materials
Terms of Access to Materials
Because not all collections are cataloged, it is best to call the Local History & Genealogy reference desk to inquire about collections not listed below. Researchers are asked to call ahead to request access to these collections. Because of the rare and unique nature of the collections, additional access procedures apply to all special collections. All researchers are subject to the Local History & Genealogy Division Terms of Access.
Finding aids are available for the following collections:
Donations and Deeds of Gift
The Local History & Genealogy Division accepts donations of materials that are in fair to good condition and free of mold and/or pests. Please call the library at 585-428-8370 for assistance.
PLEASE NOTE: We do not provide appraisals. Due to staff shortages, the Local History Division cannot provide item-level inventories of your donation.
Reproductions and Permissions
Reproduction of materials is at the discretion of the librarian as condition of materials may prohibit reproduction. All photocopying is undertaken by library staff.
Photographic reproduction of any library materials for publication requires library permission. Fees may apply.
Permission to reproduce or photograph material does not imply permission to publish. It is the patron's obligation to satisfy copyright regulations when copying or using materials found in the collection.